When it comes to securing your property, fencing is one of the most popular options. There are several materials to choose from, including wood, vinyl, and aluminum. In this article, we'll explore the benefits of choosing an aluminum fence for your home.
Aluminum fences are relatively new in the fencing market but have quickly gained popularity due to their durability, strength, and versatility. They are made from high-quality materials and designed to withstand the test of time, making them an excellent long-term investment for your home.
An aluminum fence is a type of fencing made from aluminum, which is a lightweight and durable metal. Aluminum fences are commonly used for residential, commercial, and industrial applications, as they are low-maintenance and long-lasting.
Here are some of the advantages of the aluminum fence:
Durability
One of the most significant advantages of aluminum fences is their durability. Unlike wooden fences, which can warp, rot, and splinter over time, aluminum fences are resistant to the elements, making them a great choice for homes located in areas with harsh weather conditions. They are also resistant to corrosion, which makes them ideal for areas with high humidity or salt air.
Aluminum fences are also incredibly strong. They are much more robust than wooden fences and can provide excellent security for your home. Additionally, aluminum fences can be installed with narrow gaps between the pickets, making them difficult to climb and offering an added layer of protection for your property.
Easy to clean
Additionally, aluminum fences are low-maintenance and easy to clean. They require little more than a quick rinse with a garden hose to keep them looking new. This is a significant benefit for busy homeowners who want a fence that doesn't require a lot of upkeep.
Customizability
Another advantage of aluminum fences is their customizability. They come in a range of heights and styles, including picket, privacy, and ornamental designs. This versatility makes them a great option for a variety of landscapes and architectural styles. Additionally, aluminum fences can be modified to fit the contours of your property, ensuring a perfect fit.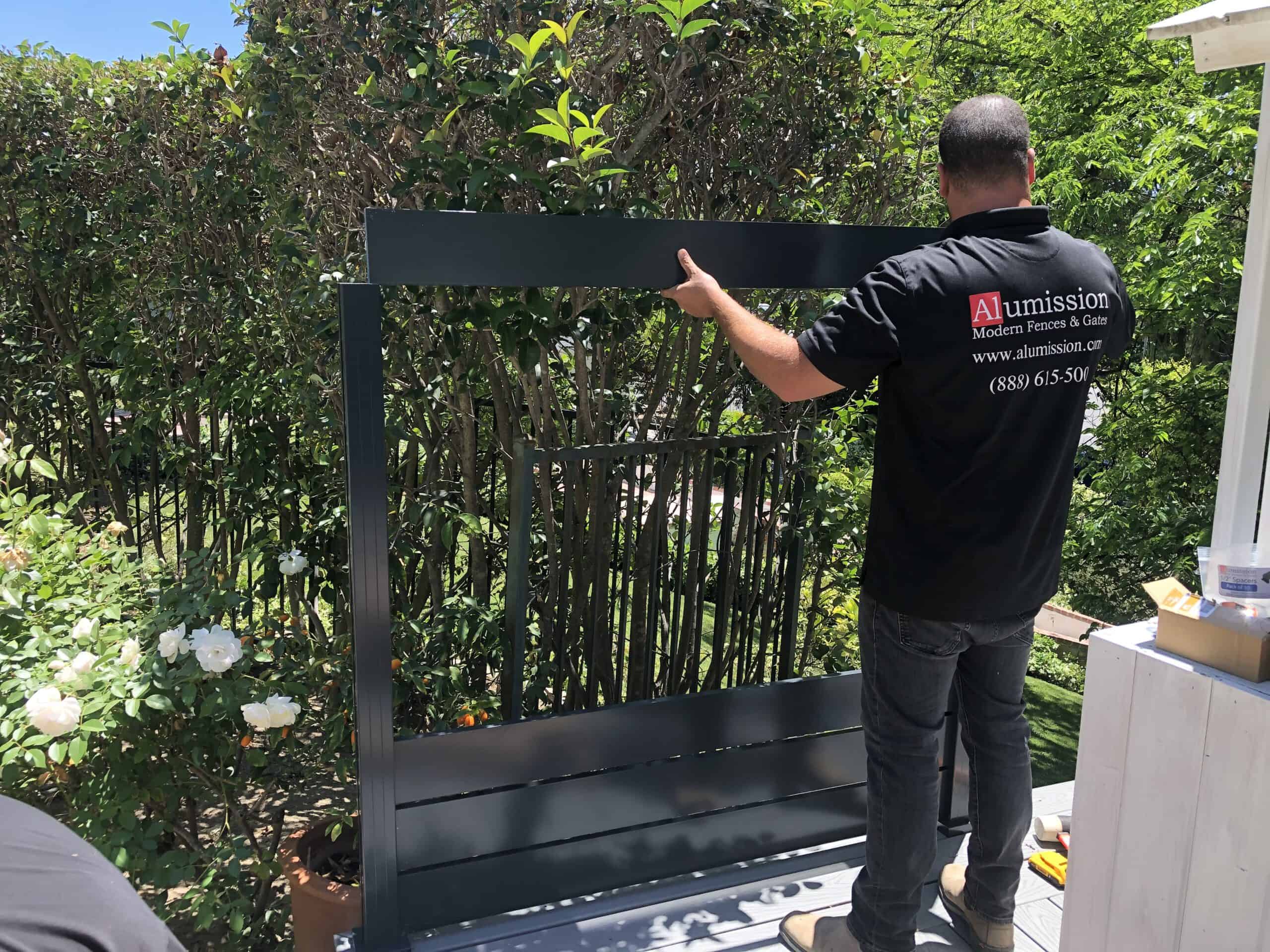 Eco Friendly
Another benefit of aluminum fences is that they are eco-friendly. They are made from recycled materials and are 100% recyclable, making them a sustainable choice for environmentally-conscious homeowners. In contrast, wooden fences require the harvesting of trees, which can contribute to deforestation.
Furthermore, aluminum fences are resistant to pests, such as termites, which are known to damage wooden fences. This means that an aluminum fence will last much longer than a wooden fence, and you won't have to worry about costly repairs or replacements due to pest damage.
Choose aluminum
Aluminum fences are available in a variety of styles and colors, making them a popular choice for many homeowners and businesses. They can be designed to mimic the look of traditional wrought iron fences, but without the maintenance and upkeep that wrought iron requires.
Overall, an aluminum fence is a practical and attractive option for many different types of properties. Whether you're looking to enhance the curb appeal of your home or secure a commercial property, an aluminum fence can provide the durability, style, and low-maintenance you need.
Finally, aluminum fences can add value to your home. They provide excellent curb appeal and can enhance the overall look of your property. They are also an attractive feature for potential buyers, making them a great investment for homeowners looking to sell their homes in the future.  They are durable, low-maintenance, customizable, strong, eco-friendly, and add value to your home. Consider choosing an aluminum fence for your home and enjoy the peace of mind that comes with a reliable, long-lasting fence.